This week we uploaded 202 new TSBs and updates on 101 existing TSBs.
Voici quelques exemples:
TSB No. 10,000
The day finally came when we created TSB no. 10,000.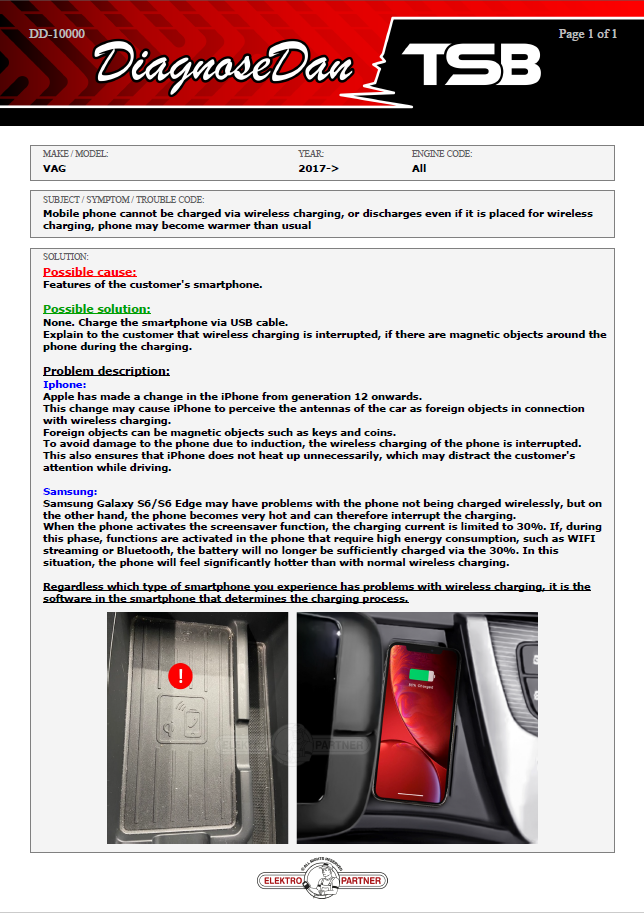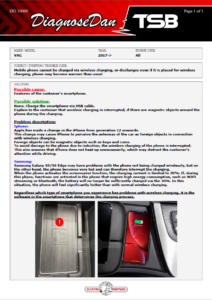 This was celebrated at the main office in Denmark with champagne and marzipan ring cake. A lot has happened since Elektro Partner created the first TSB back in 2006. TSB 10,000 addressed a problem with wireless charging in smartphones. The founder of Elektro Partner, Frank Donslund, remarked with a smile that when he created the program back in 2006, he had never thought we would write TSBs about smartphone problems. It will be interesting to see what the subject will be when we write TSB No. 20,000.
Audi wireless charging.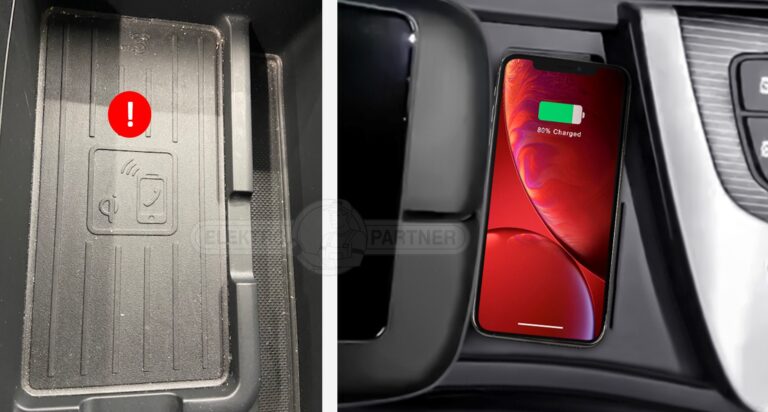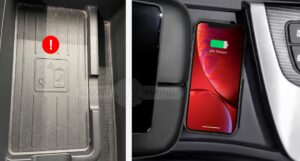 To a customer, all problems occurring in the car are often considered to be issues with the car itself. However, when it comes to online services and smartphones, this is not always the case. We see problems with wireless charging, especially on iPhones from generation 12 onwards and Samsung Galaxy S6/S6 Edge.
This is not something the car is responsible for. In TSB No. 10,000, we make the workshop aware of this issue and provide the workshop with arguments that can be used to explain this to a customer.
TSB No. 9934:
Peugeot 508 (2011-2018)
Several electrical faults such as wiper system not working, engine will not start, no diagnostic communication with engine control unit, or other control units on the CAN IS network. Fault code possibly stored:
U1F3A 87 – Fault – Absence of Communication with the Windscreen Wiper Motor(s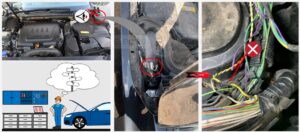 The big challenge with this problem is that the fault occurs very intermittently. So, a customer might have a non-start engine, and when you bring the car to the shop, it starts fine, and there's no fault code to provide any pointers. By researching this issue in the internal hotline database, we found that in several cases, there were also problems with the front wipers. Even better, there might be a fault code stored for the front wipers. Normally, you wouldn't link a problem with the wiper motor to a non-start. However, if you use DDTSB, this becomes an important lead to find this TSB. It turns out there's a weak point in the wire loom where the wires to the wiper motor also run. So now, it begins to make sense. Turns out that the CANbus wires also run in the same wire loom as the wiper motor wires, as seen in the picture. Knowing this, you can save a lot of time if the fault is intermittent. If the fault isn't present, the first step would be to wiggle the wire loom in this area and see if the fault occurs. From there, it's a basic CANbus measurement and a repair of the wire loom.
3 examples of how to find a TSB like this in DDTSB:
1.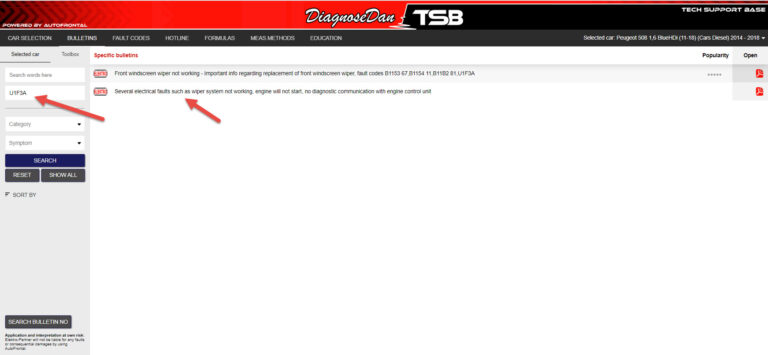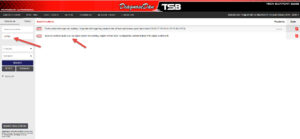 If you have a fault code, this is always the best way to search. Even though you at first might not think the fault code is relevant, go to 'Bulletins' and enter the fault code to search for bulletins on the selected car. This search yields 2 TSBs that match the search criteria.
2.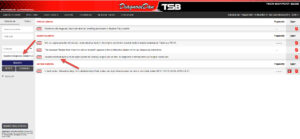 In case you don't have a fault code to search for, you could try to consider the symptoms you have and select one from the list. If your scantool can't communicate with one or more control units, this is a unique and very important symptom to search for. This search yields 4 TSBs that match the search criteria.
3.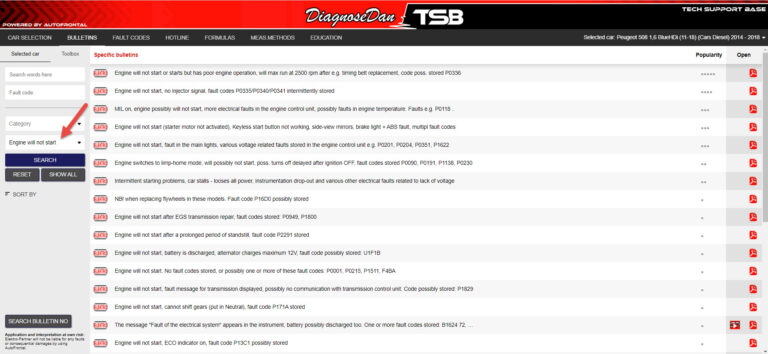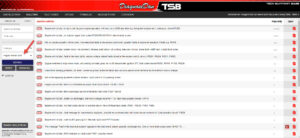 If you search for the other symptom "Engine will not start" on a car like this, you will get many TSBs that match this search criterion. The program finds 24 TSBs for this search, so in this case, this would not be the optimal search for this situation."
TSB No. 9516.
TESLA Model 3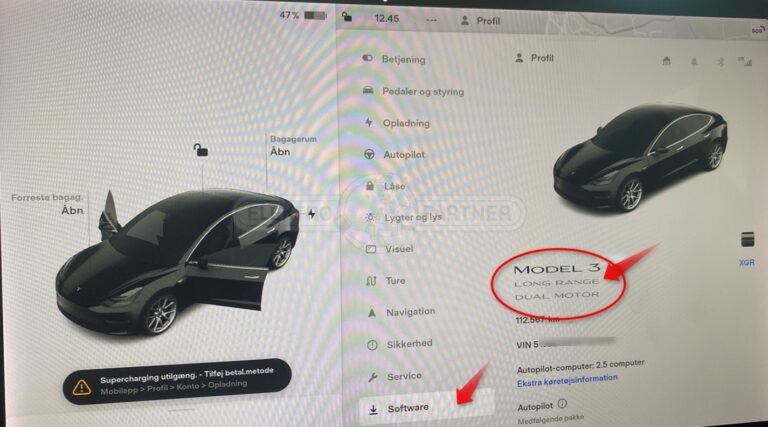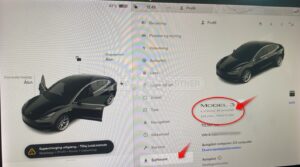 It comes as a surprise to many how many resets and basic settings you can actually do on a TESLA without a scantool. In DDTSB, we have a significant portion of customers living in Norway, which is known for being the leading country in the world regarding electric vehicles. This also means that if there are challenges for the workshops, we receive many questions about certain subjects such as:
Instructions to calibrate door windows
Jack mode activation
Guide for working on the "Thermal system" in connection with checking/draining/filling of the A/C or cooling system, activation of new compressor
Guide to perform condition check (SOH) on the high-voltage battery
And many many more.
To be able to answer this we create our own guides in DDTSB.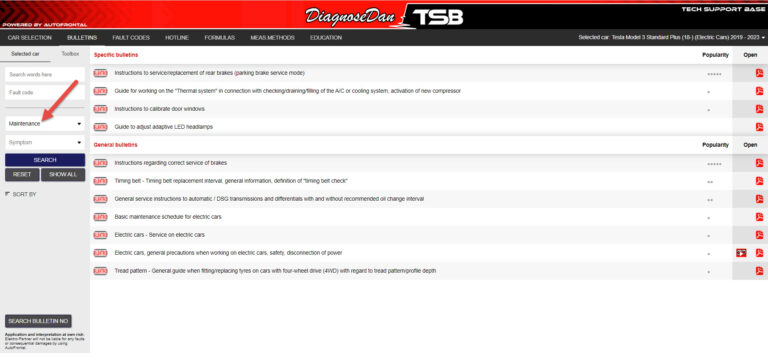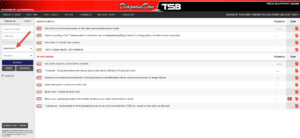 You can find information like this by searching for keywords under 'Bulletins', or you can find it under the category 'Maintenance'.
Want to read a TSB on these subjects and have access to thousands of unique aftermarket TSBs?