Newly Uploaded: Diagnosing PSA AMN8 / ATN8 Transmission Issues
Embarking on a Diagnostic Journey:
This week, 367 new technical bulletins and 387 updates have been added to DDTSB, enriching your diagnostic toolbox. Among these is a valuable guide on diagnosing transmission issues in PSA models from 2016 onwards.
Symptoms and Challenges:
It all starts when the transmission refuses to switch between positions P – R – N – D, effectively leaving the engine unresponsive unless it's in the "P" position. The fault codes that emerge, P1718 81 – Gear Lever Position Sensor: Position Not Valid and U122A 81 – Communication on the CAN with the Sequential Gear Lever: Invalid Value, can seem confusing.
The Challenge of Diagnosing the Unknown: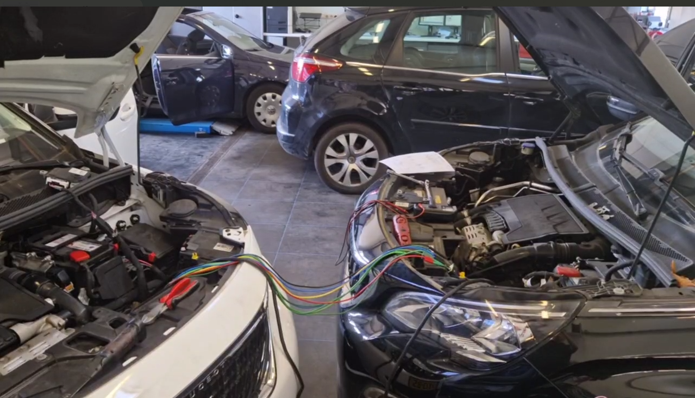 This TSB is a classic example of a scenario where the symptoms and fault codes serve more as confusing signals rather than clear indicators. Scarce information on this transmission, even with dealer access to the Service box, and the absence of an OEM TSB at the time this diagnosis was made, turns diagnosing this issue into a daunting task. Often, technicians resort to using a donor car to gather necessary data on their own when useful information is scarce and finding answers is like searching for a needle in a haystack.
Unveiling the Path to Diagnosis:
Fortuitously, our path to diagnosis has been illuminated by Iwan Kennis, a well-known Dutch technician. Through his invaluable contribution and willingness to share essential measurements, a new TSB is born. Now, armed with this newfound information, users of DDTSB can approach diagnosing this transmission issue with precision and efficiency.
The Road Ahead: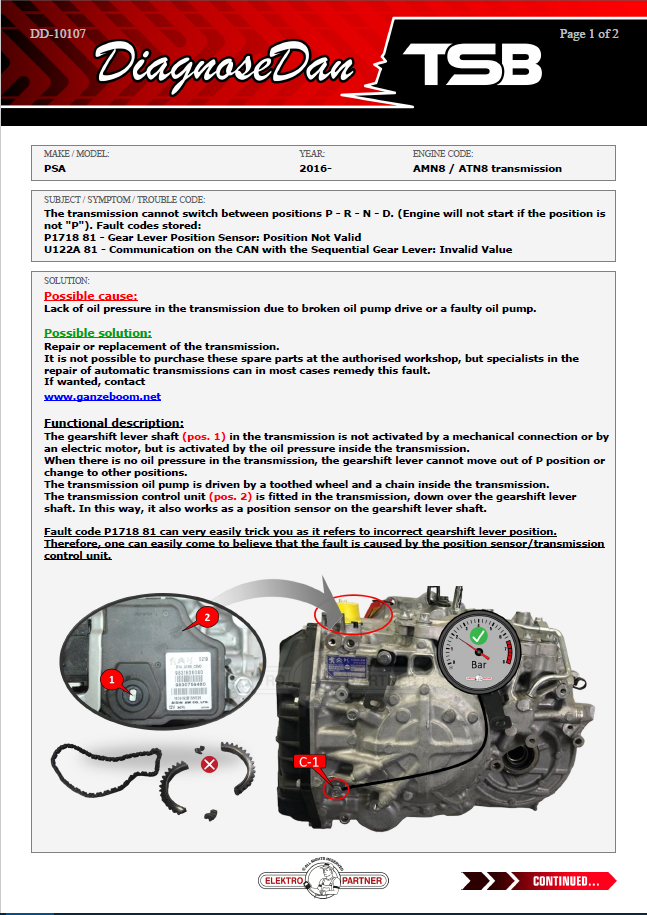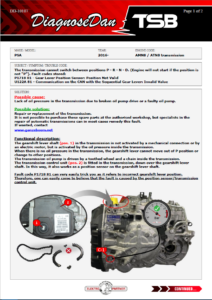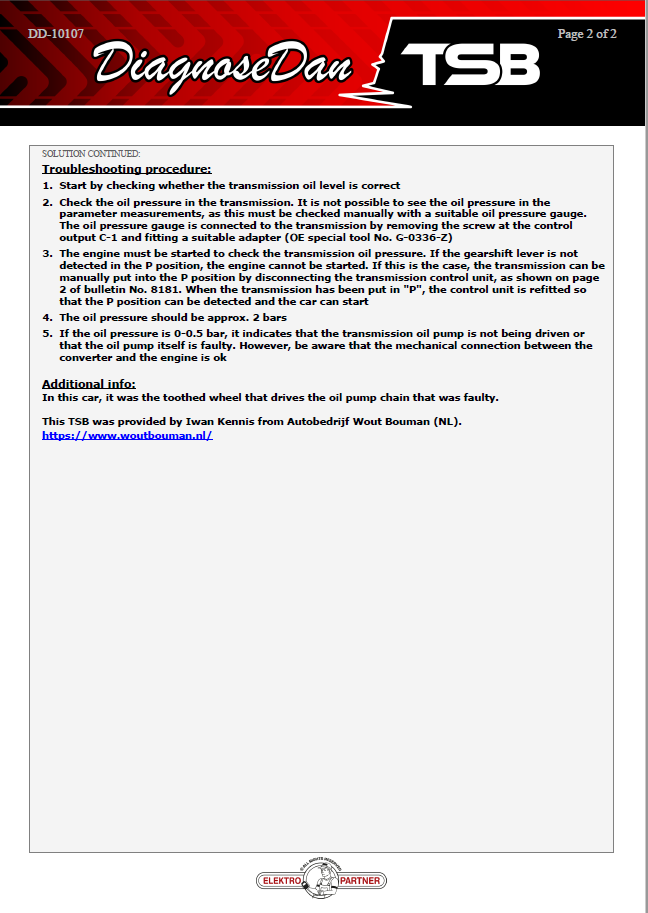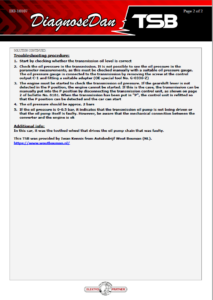 So, how do we tackle this seemingly overwhelming challenge? By systematically understanding how the gears are engaged and monitored, and applying the shared measurements meticulously. This not only simplifies the diagnostic process but also ensures that you save valuable time.
In conclusion, diagnosing the AMN8 / ATN8 transmission doesn't have to be a challenging journey. With the right information and a collaborative spirit among technicians, resolving these issues becomes much more efficient. This TSB is a testament to the power of shared knowledge and the relentless pursuit of solutions in the world of auto mechanics.
TSB Uploaded: Unraveling Volkswagen Transporter T6 Engine Cut Outs
Symptoms that Baffle:
Imagine a Volkswagen Transporter T6 2.0 TDI where the engine stubbornly cuts out at around 1700 revolutions and refuses to rev up. The situation becomes even more puzzling with no fault codes stored, leaving you with a diagnostic challenge.
The Challenge of Diagnosis:
Embarking on a diagnostic journey for this issue can be a maze, especially when faced with the fickleness of an intermittent problem. Scouring through previous hotline questions in our internal database, we've discovered this to be a recurring, intermittent fault. In some cases, numerous parts were replaced before our involvement. The stakes are high for commercial vehicles like this – every moment in the workshop translates to lost revenue for the company.
Unveiling the Culprit: The Fuel Temperature Sensor (G81):
Crafting this TSB involved meticulously comparing previous hotline questions exhibiting this symptom. While the engine may present a plethora of common problems, such as issues with the rail pressure sensor, our investigations frequently pointed to the fuel temperature sensor (G81) as the offender.
Navigating DDTSB: Tools for Efficient Diagnosis: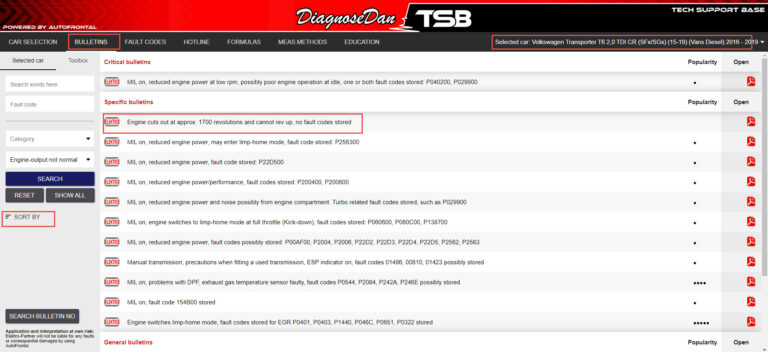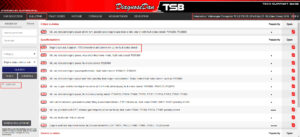 Finding a TSB with no fault code can be time-consuming, especially for cars with numerous TSBs. The DDTSB program simplifies this by allowing you to select symptoms matching the car's issue, thereby narrowing down the list of TSBs quickly.
For example, if a car exhibits the symptom "Engine-output not normal," you can select this specific symptom, and DDTSB will filter and present the most relevant TSBs. This efficient approach saves time, streamlining the diagnostic process and getting the vehicle back on the road faster.
Search with Precision: Utilize the search bar like you would on Google, and DDTSB will pinpoint TSBs matching the keywords relevant to the selected car.
Category Selection: Delve into the 'Engine' category and explore TSBs until you find one that resonates with your symptom.
Symptom-Led Exploration: Directly select symptoms as showcased in this example.
Additionally, we've sorted the TSBs by newest, explaining why this new TSB tops the list.
Back to Basics: A Reminder of Fundamental Diagnostics:
In the hustle of complex diagnostics, sometimes the basics get overlooked. A TSB like DDTSB-10093, focusing on aspects often forgotten, can be a game-changer. Armed with this knowledge, you can now drive the car, anticipate the stall, and capture relevant data on your scan tool with precision.
Conclusion: Diagnostics Made Efficient:
In summary, this TSB exemplifies the power of a systematic, symptom-led approach. By harnessing tools efficiently and remembering the basics, diagnosing perplexing issues like the ones seen in Volkswagen Transporter T6 2.0 TDI becomes a smoother, more efficient endeavor.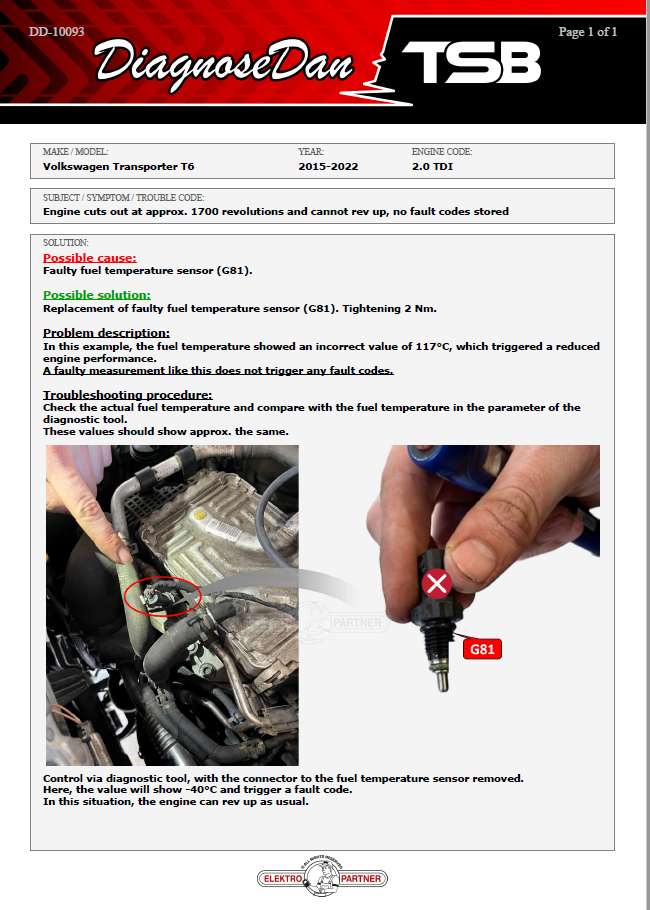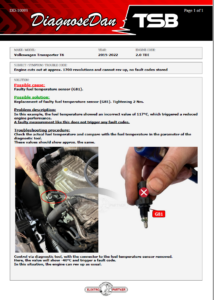 Introducing 5 New Measuring Methods on EVs
Norway: The Vanguard of EV Evolution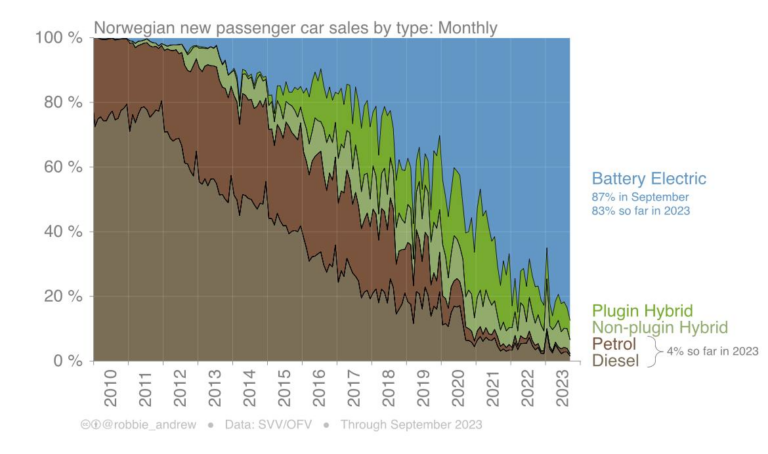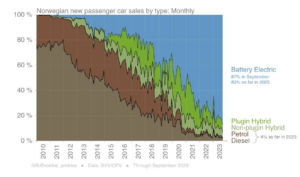 Elektro Partner, the creator of DDTSB, started its journey in Norway in 1989 and has been a pioneer in the automotive solutions ever since. In the world of Electric Vehicles (EVs), Norway stands as a trailblazer. With an impressive user base for our program, we've gathered extensive data and insights into the typical challenges faced by auto mechanics dealing with EVs.
The Struggle for Hands-On Experience:
Despite commendable investments in training for EV diagnostics, technicians worldwide often grapple with a lack of hands-on experience. The gap between learning about a system and the opportunity to diagnose it could span years. To bridge this gap, we advocate for technicians to engage in hands-on training annually, if not every two years. Even revisiting the same course can lead to a plethora of 'aha' moments and insights, especially considering the rapid evolution of EV systems.
Measuring Methods: A Refreshing Resource for Technicians:
Our new set of measuring methods for Electric cars is tailored for those who have undergone extensive hands-on training and hold the necessary qualifications. Even with the right courses under their belts, technicians find our measuring methods to be excellent memory refreshers and inspirational aids for troubleshooting procedures.
Presenting 5 New Measuring Methods on EVs:


To cater to this demand, we're introducing five measuring methods on EVs, with more on the horizon:
TSB No. 10128 – General Overview of High-Voltage Components: This provides a comprehensive overview of high-voltage components, aiding in quick identification and understanding.
TSB No. 10122 – Assessing High-Voltage Battery State Of Health (SOH): Equip yourself with the knowledge to gauge the health of high-voltage batteries effectively.
TSB No. 10114 – Diagnostics of High-Voltage Battery: Delve into cell temperature, cell voltage, and diagnostic tests of lithium cells for precise evaluations.
TSB No. 10095 – PTC Heater Control & Troubleshooting: Acquire tips and insights for troubleshooting and controlling Positive Temperature Coefficient (PTC) heaters.
TSB No. 10033 – Diagnosing Insufficient Range: Understand the general diagnostic information for cases where the vehicle's range falls short.
Conclusion: Empowering Technicians with Knowledge:
In essence, these measuring methods are crafted to empower technicians with the right knowledge to diagnose and troubleshoot EVs proficiently. By staying updated and continually refreshing their skills, auto mechanics can efficiently navigate the fast-evolving landscape of Electric Vehicles. It's important to note that this is meant only as a refresher of memory, and hands-on courses taken annually at a minimum are the recommended way to go.
Understanding State of Health (SOH) Formula on Lithium Batteries
When diagnosing Electric Vehicles, it's crucial to comprehend how the State of Health (SOH) of a battery can be determined using different methods. The SOH is a pivotal factor in assessing the performance and lifespan of an EV's battery.
One method of calculation involves the battery control unit, which tends to be the most accurate. This unit continuously monitors and calculates the SOH based on various parameters such as charge-discharge cycles, temperature, and current.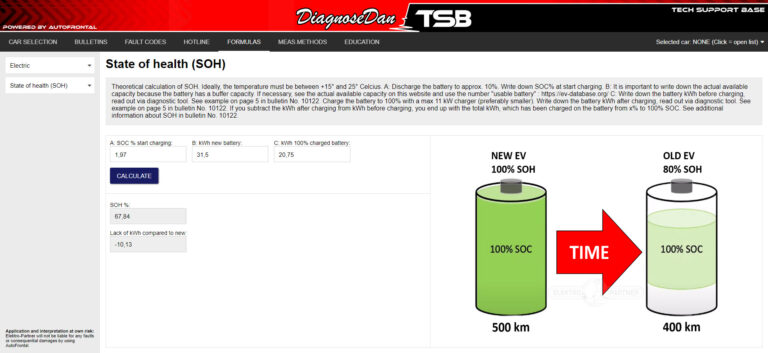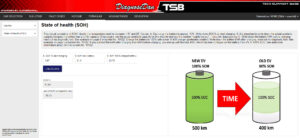 SOH Calculation Methods:
On the other hand, there are moment-capture test methods such as those conducted by a third-party battery health diagnostic tool connected to the OBD port, which can offer a TÜV approval certificate, or the formulas integrated into DDTSB. These techniques provide a snapshot of the battery's condition at a specific moment, offering quick insights.
When diagnosing range problems, the SOH is often the first and easiest thing to check. However, it's important to note that not all cars offer a way to read the SOH directly through the scan tool.
The method utilizing formulas is meant as a first step in diagnosing potential issues. If the SOH indicates a low value that could be the cause of a lack of range, further test methods must be employed to comprehensively assess the situation and determine the root cause.
It's essential for technicians to understand that various factors can influence the SOH. Factors like the battery's age, usage patterns, and environmental conditions can alter the SOH readings.
Being cognizant of these variations ensures a more precise and informed diagnosis, allowing mechanics to provide effective solutions tailored to each EV's unique needs.
Unlock a wealth of automotive knowledge and enhance your diagnostic skills. Explore thousands of unique aftermarket TSBs now at DDTSB